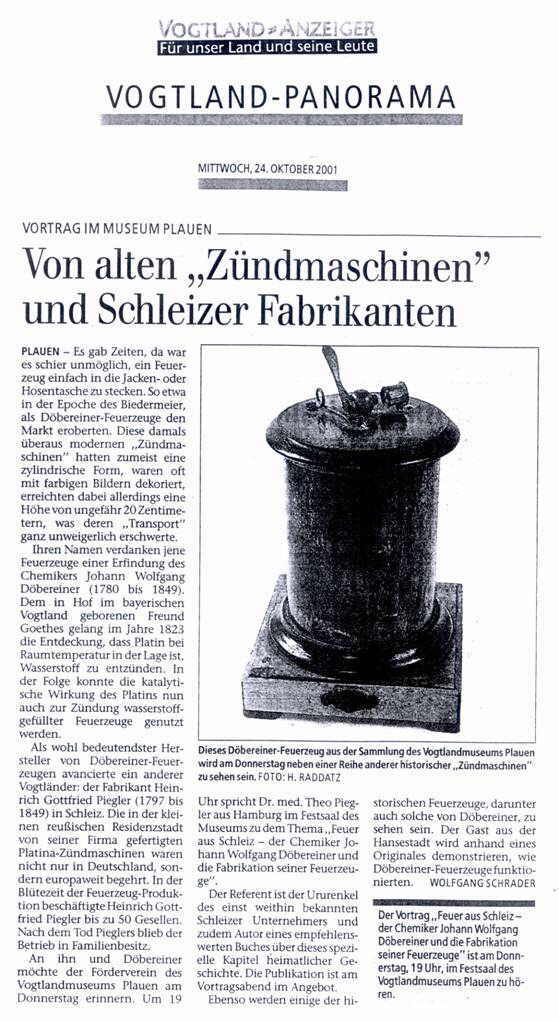 ---
A NEW PUBLICATION ON THE BOOK MARKET PRICKS UP ONE'S EARS. "FIRE FROM SCHLEIZ" FROM DR. THEO PIEGLER
Well informed lighter collectors in Europe have a clear idea of the name Piegler and the town of Schleiz in Thueringen. Both names stand for the Doebereiner lighter from 1823. The Schleiz based belt maker and factory owner Gottfried Piegler detected the importance of the invention of the Dobereiner lighter right away and started to produce the useful device in large volumes. He was right to designate his factory to be "the oldest factory and warehouse of platinum lighters" .The book written by the great-great-grandson of the company's founder clearly promised to offer wide and detailed information on the subject. On 241 pages and countless pictures the reader will not be disappointed.
In the first place the author acknowledges the person and chemist Johann Wolfgang Doebereiner, then the Piegler family, embedded in the course of history of that time. Referring to the home town with it's royal regime, the aspect of true home town history is clearly fulfilled. Also the history of trade and craft in the 19th century doesn't get a bad deal and answers my questions regarding which kind of trade was allocated for the production of such a technical device. We learn about the differentiation of several craft disciplines in order to finally produce a Doebereiner lighter. Another aspect is the exact business of a factory at a time when everything was hand made. Today, when measurement instruments containing quicksilver are withdrawn from their use for health reasons, it is hard to imagine that, using fire gold plating, the gold in liquid form mixed with quicksilver was put on by hand.
Although there is quite a lot of specific literature about Doebereiner available, I read the book with great interest and I rate it as true enrichment for all relevant interest groups such as natural scientists, friends of history and of course lighter collectors. The only thing I might have wished are colour pictures of the various lighter objects (instead of black and white). However, this would have made it difficult to offer the book at a very reasonable price of approximately 12 USD. The book is only available in German language but the pictures alone are worth to own it.
Book review by Mr. Wolfgang Seyfried in Spark International – Quarterly News, Issue No: 17/2001